Cari Friedman has been teaching at New York Yoga for many years and is currently teaching 4:45pm and a 6:30pm class on Fridays. Cari delivers an Anusara class that is both challenging and gentle all in one. Class is challenging because you will have an invigorating class, and probably get to practice your handstand, and gentle because she provides a supportive space for students to meet themselves on the mat and explore.
Cari will encourage you to find the good in all things. She teaches from a place that incorporates personal experience, fun and the Universal Principles of Alignment. She is a busy mom, devoted yogi and one of New York Yoga's shining elite.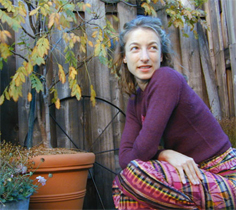 Cari, when did you first discover yoga?
When I was 21 – my best friend was becoming a teacher and I wanted to support her.
How long have you been teaching?
I have been teaching for 10 years; under Max Strom, in 2001, and experienced my first Anusara training with Jimmy & Ruthie Bernaert and Ellen Saltonstall, in 2001-2002. I've continued to study with John Friend and other senior Anusara teachers since then.
What makes your class unique?
I encourage my students to step into their authenticity while offering humility, and playfulness.
What is your favorite pose to teach?
Handstand – because its one of the most exciting poses, its fun, it shakes you up. By taking you upside-down the pose makes you approach yourself. For most people it's scary but that's all in the mind. I like that handstand makes you step up to yourself and face that fear.
What is you favorite pose to practice?
No one pose. Inversions are definitely a favorite, I like backbends because they are challenging and twists because they are healing and replenishing.
Best advice for beginners?
Remember that you are your own greatest teacher. Listen to how you feel and trust it. Do not be shy to ask questions and always state your concerns.
Best advice for more advanced yogis?
To stay humble and to always honor the beginner's principle – remember you are always a student; always try to have a beginner's mind.
What is your biggest yoga pet peeve?
I don't think I have a pet peeve – but it's always distracting when a mobile devise goes off in class.
How does teaching in an Anusara style influence your class?
When we open to the first principle "Open to Grace" we can open with a pause, a breath, to expand and find ourselves back to our most subtle and honest space. From there we can apply the following Principles of Alignment to support us in coming back to our true nature. When we align to that nature through our bodies we empower & stabilize which encourages our freedom. When we feel this from the inside out, we walk away remembering we are a part of something greater.
Has being a mom taught you anything new about yoga?
Being a mom is the ultimate yoga of patience and presence. Having a child makes you step up; as a mother you can't be passive, you must participate and a child commands every second you have. You are alive, awake and as present as possible.
I have found that being a mom is one of the most incredible ways in which you can heal yourself. It has supported me in my own healing process as a woman – I have become a better person by having my daughter.