Kelly Stackhouse's light-hearted nature is good for the yogi soul. She will encourage you to have fun and approach your practice with a sense of humor. Beginners and advanced practitioners alike will find her vinyasa flow challenging with moments of surrender to breathe and to really be in the moment. Expect supportive adjustments to help you move deeper and a sequence that satisfies all the way through to savasana.
You can find Kelly at York Ave on Fridays for her 8:25am Hour of Power or her 9:35am Vinyasa All Levels; and at Hot on Tuesdays for 5:15pm Hot Vinyasa All Levels. Whether you check her out at New York Yoga or New York Yoga HOT, you will be greeted with a warm smile and have a fantastic class ahead of you.
When did you first discover yoga?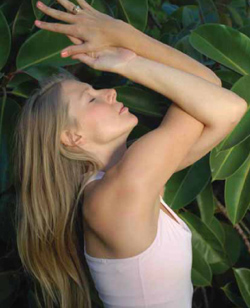 I first discovered yoga in 2003 when I was on a meditation retreat in Thailand. We practiced yoga every morning and I was amazed to see how I could improve in so little time. I noticed my toes inching forward each morning when I stepped my foot between my hands - little improvements like that really got me interested.
How long have you been teaching?
Six years. I studied with Kathryn Beet at Yoga Space, in Toronto, and was certified in 2005.
What makes your class unique?
I don't take myself too seriously. I think there should always be moments in class where students are really having fun. I smile and joke even if students do not respond right away, I think its still appreciated and reaching them - every now and then a student smiles back.
What is your favorite pose to teach?
Pigeon. There is a certain way to talk students into relaxing much more deeply than they thought they could. I think people are intimidated by pigeon. It works such a big muscle; it can be such a release. I like teaching passive poses because I get to teach people how to give up working so hard and find surrender instead.
What is your favorite pose to practice?
Wheel. It is a struggle for me, always has been. Since it's the most challenging, I like to work on it the most. Its good for people to work on a pose they want to run away from, it says a lot about what is going on in their practice. I also love dancer because its really beautiful.
Best advice for beginners?
To be patient, to be open, to let any intimidation go. I think yoga sometimes feels like a strange world and can be confusing at first. Just take in a little at a time and it will start to make sense if you are open to it. Yoga is for everyone.
Best advice for more advanced yogis?
Sometimes backing off is the bigger challenge. I see people pushing so hard that they lose the alignment or purpose of the pose they are trying to do and it can be difficult to bring someone back. Sometimes less is more.
What is your biggest yoga pet peeve?
I don't like to image of yoga being super-hippy - yoga is as much for the hedge fund guy as it is for the stay at home mom. I don't like when yoga is typecast.
Reader questions...
How do your York and Hot classes differ?
I always base my classes on the energy of the room. There tends to be a more relaxed vibe at the York Studio. I think the heat inspires higher energy. So I'd say my class is special to both place and totally depends on the atmosphere.
Passion besides yoga?
I am a bit of a running coach. I love photography and art; I'm often at galleries or museums around the city. And I like to travel.