By: Rebecca Merritt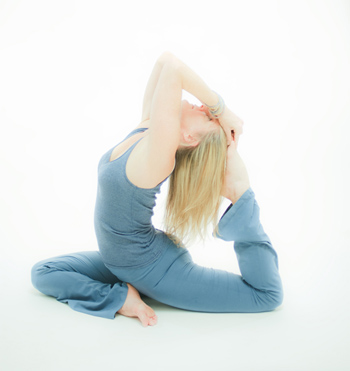 Martha is an 800 hour Jivamukti certified yoga teacher, classically trained in ballet, and has probably taught any fitness class you could name. This is enough to show she is experienced in her field. But there is so much more to Martha than that because she is a yogi who has devoted her life to the practice. This devotion comes through in the way she teaches her classes and talks about yoga.
Whether you are new to the practice or a long time practitioner Martha's classes will help you grow and experience your practice in a purposeful way. Her alignment based vinyasa flow classes and her incredible adjustments will help you fully embody the asana. She will challenge, move and maybe even heal you.
Check out Martha's 90min Hot Vinyasa class at New York Yoga Hot, Wednesdays at 6:30pm.
When did you first discover yoga?
It's been a long time; I don't really remember. I did Pilates before yoga, when I first came to New York for ballet. At the time there were only three Pilates teachers in NY who had trained directly w/ Pilates himself. I have been in the fitness industry my whole life. I ran a fitness program for two gyms and taught every sort of exercise class you could name – whatever trend was popular. I was exposed to yoga early, probably through dance. But I first got really interested in it when I started to take Ashtanga with Beryl Bender; I took her class, got hooked, and started practicing on my own.
How long have you been teaching?
I taught yoga at the gym before I did my certification – so since 1998 or 1999. I got my certification from Jivamukti in 2007.
What makes your class unique?
It is hard to think of yoga as unique, I've taken a lot of different styles of yoga and the basis is all the same. What I like to do in my class is use music and have people move and feel their bodies. I like to help students experience some opening in their bodies and experience their body in a new way.
I like to give hands on adjustments because you can put someone in a pose they would not be able to do on their own. Then they can feel what its like to really be in it. And when someone puts their hands on another person in a healing, caring way it's very valuable. So music, adjustments, and I focus a lot on alignment – which goes back to my ballet dancing days.
What is your favorite pose to teach?
That changes from time to time – usually something that I haven't taught before. I find it very interesting to figure out how to teach a new pose and stretch myself a little bit.
What is you favorite pose to practice?
Same thing – I like to try new things or something I haven't done. It's amazing to me that there are so many poses that I can still find ones that I haven't done before.
Best advice for beginners?
Be sure not to view yoga as just another exercise. It's so much more and you'll miss out if you don't see that.
Best advice for more advanced yogis?
Same advice. There's more too it. Yoga is about something other than the exercise.
What is your biggest yoga pet peeve?
Being a yogi I try not to have a pet peeve. I try to see everything as equal. I guess my pet peeve would be when I myself don't see everything as equal, when I start to be judgmental.
Reader questions…
How do you incorporate yoga into your daily life?
I would say for me, its influences everything in my life. I'm a vegan. My husband is also a yogi and we spend a lot of time practicing yoga, meditating, chanting, and studying scripture. I try to all day devote myself to following the teachings of yoga in every interaction I have. Whether it's on the bus and someone needs a seat or helping people. Not judging people and seeing something as good or bad, but seeing all things as equal. Staying level.
Has being a classically trained ballerina influenced your yoga practice?
It's a huge influence. I had amazing teachers. I was really fortunate to go to a high school for the arts and study with amazing teachers. I pull from what I learned from them all the time when I teach class. The discipline of teaching and practicing ballet is very similar to yoga – focus.