From yoga and meditation to reiki and massage there is little Kristin Leal is unaware of if it pertains to the body. She even holds certifications in neuromuscular and myofascial release. Kristin is a student for life – curious and ever expanding her knowledge of anatomy, movement and yoga philosophies – it is this inquisitiveness and depth that makes her a New York Yoga favorite. She has a fabulous sense of humor in her class room and creates a space for beginners and advanced practitioners alike to energetically explore their practice.
Kristin has been a guest on New York Yoga's 200 hour Teacher Training faculty many times. She created the Kaya Yoga programs and has worked with Alan Finger to further his development of the Ishta Marma Point teacher training as well. It is no question that she will continue to be a powerful force at New York Yoga and to the greater yoga community.
Kristin teaches at the York studio on Mondays at 6:05pm and 7:35pm; and on Wednesdays at 4:35pm and 6:05pm.
Kristin, when did you first discover yoga?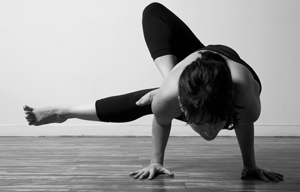 I first discovered yoga in 1993 – a friend of mine from my dance program took me to a class at the old Jivmukti studio. I started practicing there because the stretching complimented my dance practice. I didn't know what anyone was talking about at first but was curious about non competiveness nature of yoga – totally different from the dancing I was doing at the time.
How long have you been teaching?
About fifteen years.
What makes your class unique?
I try to balance the seriousness of your enlightenment with not taking yourself too seriously. I like to make the teachings practical and not just an exercise for class that day, so that people can bring it into their everyday life.
What is your favorite pose to teach?
I don't have a favorite pose to teach. I prefer to see the students find themselves energetically in each posture – the specific posture itself is fairly irrelevant.
What is you favorite pose to practice?
All poses have different energetic effects and compliments. My main goal is to connect with who I am beyond the labels, attributes and conditions. I practice to connect with my higher self beyond the pose. But I guess you could say anything that opens me up enough to meditate or anything that is going to help me to be a more present teacher that day.
Best advice for beginners?
Patience.
Best advice for more advanced yogis?
Patience.
What is your biggest yoga pet peeve?
Actually I am trying to work on compassion; I want to work past my pet peeves. I used to have some pet peeves about class manners but now when something ruffles my feathers I'm trying to notice where it comes from and get beyond that.
Reader questions…
Who are your biggest influences?
Sharon Gannon and David Life early on, Katchie Ananda was my teacher at Jivamukti in the early nineties, and for the past three years Alan Finger has been a huge influence personally and professionally.
Are there any other projects like the "Yoga Fan" coming up?
I am currently co-writing a book with Alan about aligning the western anatomy with the more eastern esoteric anatomy.